National
Protesting farmers question PM Modi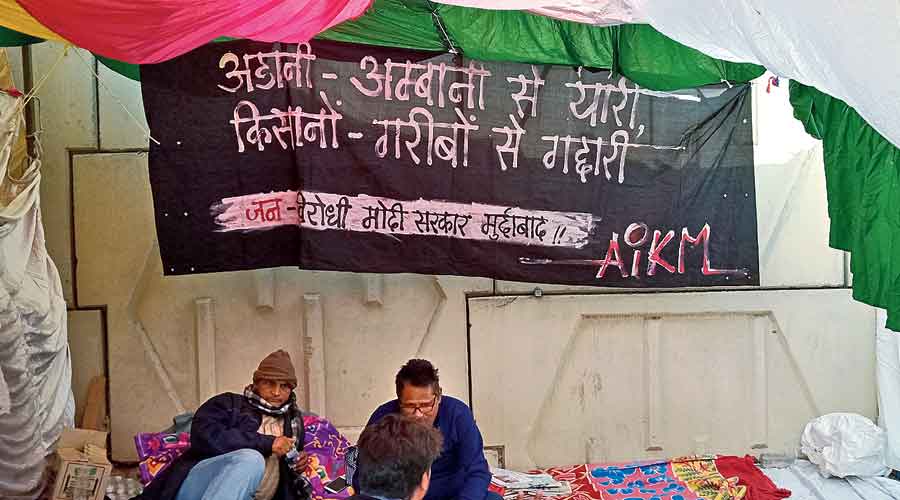 Read more at www.telegraphindia.com
'No need for debate. let the prime minister honestly answer'
---
---
The agitating farmers have a question for Prime Minister Narendra Modi: What are the disadvantages of withdrawing the new farm laws and who stands to lose if they are withdrawn?
"There is no need for a debate. Let the Prime Minister honestly answer: What are the disadvantages of withdrawing the new farm laws?" Harjit Singh, one of the farmers at the Delhi-Ghaziabad border, told The Telegraph.
"What will the government lose? Who stands to lose except Adani-Ambani and, perhaps, Lala Ramdev? How will India's interests get hurt through the withdrawal of these laws?"
While the government insists these laws will benefit the farmers, the protesters say they will only help big companies like those of Ambani and Adani make profits at the expense of the farmers.
The English-speaking Harjit, an educated young man from Suar in Rampur, Uttar Pradesh, said he had opted for farming while his brother, an engineer, had chosen to live in a city.
Harjit said: "We are being told that India needs these reforms, that farmers' lives will be better with these laws. If we don't want this windfall from Modiji, why is he thrusting it down our throats?"
"He didn't consult the farmers' unions before bringing in these laws but Adani-Ambani were busy building giant silos and acquiring agri-businesses. Now the farmers don't want them (the new laws). Who wants them? What will these laws fill: the national exchequer or private coffers?"
Harjinder Singh Sodhi, who had come from Nagaria Khurd in Rampur, picked up from where Harjit had left off.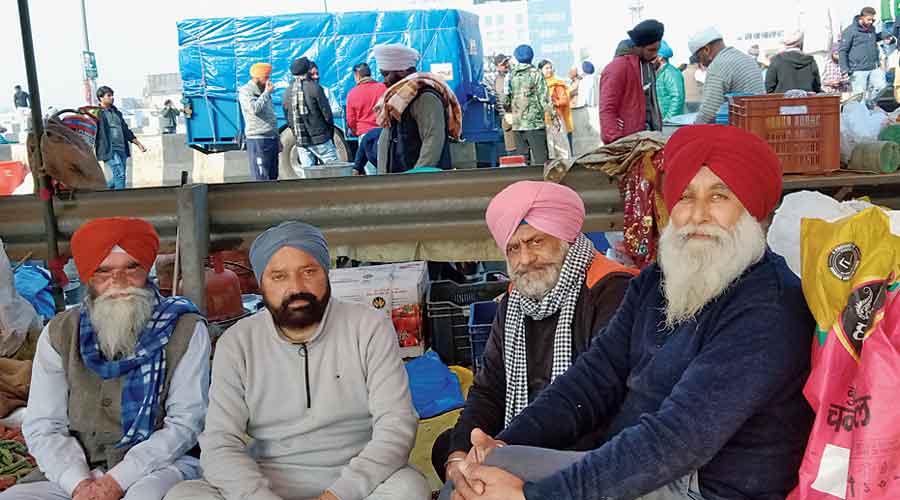 "Modi is saying these laws will transform our lives. How do we believe him? Have we forgotten his bold assertions on note-bandi — that it would end corruption, black money, terrorism, counterfeit currency?" he said.
"Experts had disputed his claims from the outset and they were proved right. The demonetisation ruined our economy and destroyed the lives of millions of small traders and industries. Modi never mentions the miseries suffered by Indians during that period."
Sodhi added: "Which of Modi's 2014 promises has been fulfilled? Six years are a long time — even the most gullible can now see through his deceptions. He says the Congress instigated us; his ministers talk nonsense about Khalistan and Maoists.
"Jab raja jhoot bolega toh praja kya kare (When the king lies, what will the public do)? Protest, surely. We are doing that. Nobody should presume we'd get tired after some time and return home. We'll be here until the laws are scrapped. We'll sit here for three-and-a-half years more to see Modi off in 2024."
Asked whether the protesters' families pressed them to return, Sodhi said they did not.
"Even the children tell us not to come back home without winning this battle. This is not about the MSP (minimum support price); this is about our existence, our identity as farmers, about democracy. Instead of responding to the farmers' call, the government has resorted to a ghatiya (cheap) discourse of maligning us, and to attempts to break our unity," he said.
"Slowly, the scope (of the protest and the participation) will widen as the farmers are also thinking about this regime (as a whole). Whatever was built over the last 70 years is being sold — all the PSUs. If this movement doesn't end soon, it will acquire a bigger dimension and the whole of India will rise against the RSS-BJP."
The Delhi-Ghaziabad border is occupied mainly by farmers from Uttar Pradesh and Uttarakhand, both BJP-ruled states, challenging the claim that only the farmers of Punjab and Haryana are against the new laws.
Thousands of farmers are staying here in makeshift tents and tractor trolleys. Although the presence here is not as massive as at the Singhu and Tikri borders (between Delhi and Haryana), hundreds are joining every day and systems being set up for efficient supply of food and other essentials.