National
PM Narendra Modi is an 'arrogant monarch': Protesting farmers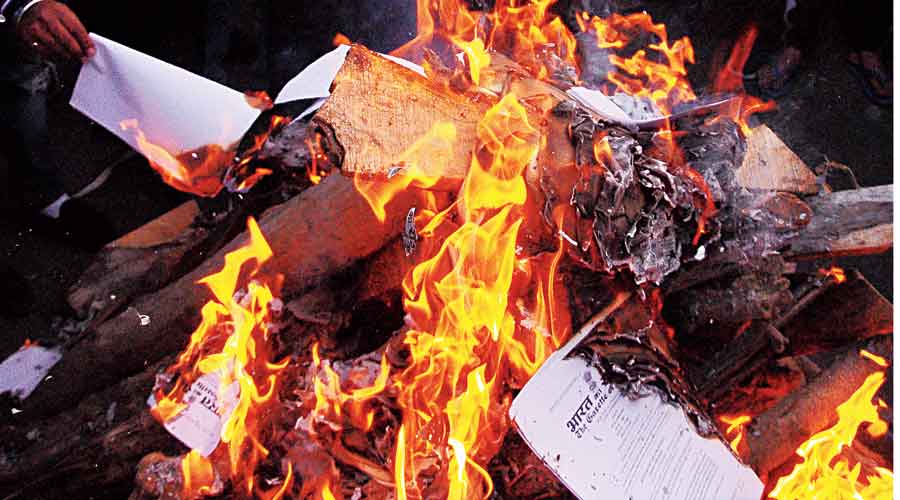 Read more at www.telegraphindia.com
All the farmers in this group, from the Jat community in Haryana, said they had voted for the PM in the last general election
---
---
In the eyes of farmers sitting on dharna against the new farm laws in the biting cold of Delhi, Prime Minister Narendra Modi is an "arrogant monarch" — like an Aurangzeb or a Ravan.
"Ghamand toh Ravan ka nahi chala, toh Modi kya cheez hai (Even Ravan got undone by arrogance; what's Modi before him)?" says an ageing farmer, among a group of around a dozen sharing a hookah at the Singhu border.
Farmers have been sitting at Delhi's borders since the last week of November to press the Modi government to repeal three agriculture laws that it steamrollered through Parliament, which the protesters believe will benefit large corporate buyers and reduce them to labourers on their own land. But the government has been unmoved, even after the deaths of more than 70 protesters.
"Bharosa karke vote diya tha. Iska matlab jo chahe woh kanoon laane ke liye thhode diya tha," says another farmer in the group. "We trusted him and gave him our vote, but not to enact any law he wants."
The duty of a good ruler is to talk to people and do what is good for them and not thrust a law that would help the corporates, he added.
All the farmers in this group, from the Jat community in Haryana, said they had voted for Modi in the last general election.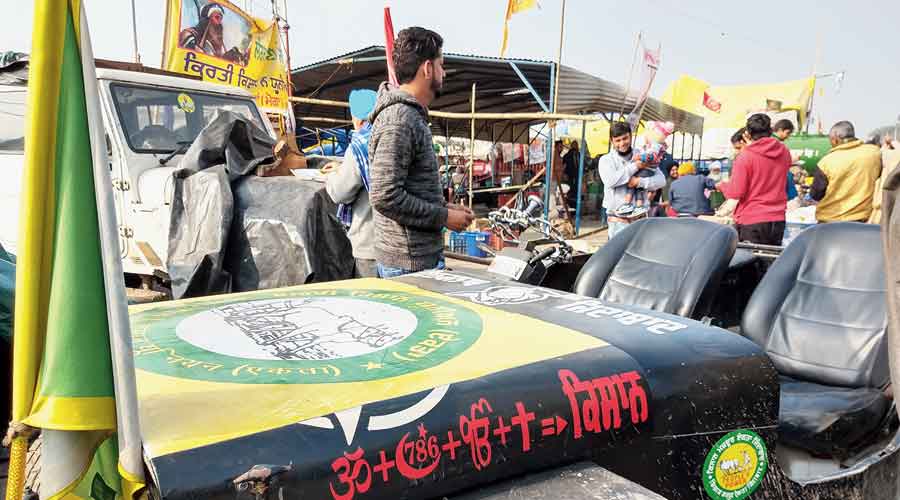 The BJP has cited its election victories to say it has the mandate to bring the laws. The party and the Prime Minister say the laws are good for farmers.
"Yeh kanoon kisan ka nahi, Adani, Ambani ka bhala karega. Humko Modi ji ka 'achchha kanoon' nahi chahiye. (These laws will benefit Adani and Ambani, not farmers. We don't want Modiji's 'good laws')," a third farmer in the group said.
If Ravan is who the Prime Minister reminded the group from Haryana of, it is the Mughal emperor Aurangzeb that the farmers from Punjab spoke of. They recalled how the ninth Sikh guru, Guru Tegh Bahadur, had fought against Aurangzeb's persecution.
Modi had last month gone to Gurdwara Rakab Ganj, built in Delhi at the site where the mortal remains of Guru Tegh Bahadur were consigned to flames after he was beheaded on Aurangzeb's orders.
The Prime Minister was trying to strike a chord with the Sikh farmers, who are at the forefront of the protest that now includes peasants from across the country. Modi spoke of how the Sikh gurus' sacrifice had helped protect the country's "civilisation and culture" from "tyrants" and "tormentors" — a reference to the Mughals, especially Aurangzeb.
Unimpressed, the protesting farmers are saying that in taking on the Modi government, they are following in their Gurus' footsteps to fight for a just cause.
"The tyrants wanted the Sahibzade to renounce their faith," Modi had said, referring to the young grandsons of Guru Tegh Bahadur immured in a wall by the Mughals for refusing to convert.
At Singhu border, Modi is being seen as the persecutor now out to malign the Sikh protesters as "Khalistanis" and to subjugate them.
Babek Singh, president of the welfare organisation Nanak Shahi Sansar, was heard telling the crowd from a dais that after targeting Muslims and Christians, the Modi government was now going after the Sikhs.
"Hum pehle nahi dabe, ab bhi nahi dabenge (We couldn't be subjugated before, we won't be subjugated now)," he said, triggering cheers.
Asked later why he felt that the Sikhs were being victimised, Babek referred to BJP leaders' slander of the agitators as "Khalistani" and "anti-national".
"You call us Khalistanis and anti-national…. The Sikh community has sacrificed so much for this land and you question their patriotism?" he said, voice trembling in anger.
"What else is this but an effort to suppress us? This turban is a symbol of our faith in this land. We have shed our blood to protect it…."
A young Sikh, Paramjit, who was waiting to donate blood outside a temporary hospital set up by unitedsikhs.org, too felt that the community was being targeted. "Sikhs can never be subjugated," he said, recalling Indira Gandhi's military operation inside Golden Temple and comparing Modi to her.
Paramjit accused Modi of trying to divide people on the basis of religion. Pointing to the queue of would-be blood donors, he said: "But this blood will be given to Delhi's hospitals and will help save lives irrespective of religion."
Some 20 metres from the hospital, on a highway teeming with protesters, stood a food stall put up by the Muslim Federation of Punjab, Malerkotla.
A small sign at the stall read: "Aapki aankhon par parda hai godi media, ye biryani nahi zarda hai (Your eyes are blinkered, lapdog media. This is not biryani but zarda)."
Tariq Manzoor, who was manning the stall, said the sign had to be put up after some media outlets claimed that biryani — a meat-and-rice delicacy and perceived by some as a symbol of Muslim cuisine — was being served at the protests. He said the stall was actually serving a vegetarian sweet rice dish called zarda.
"Our organisation regularly sets up langars (free public kitchens). We respect the sanctity of a langar and never serve non-vegetarian food," Manzoor said.
He said that after tarring Muslims, the pro-government media was out to besmirch Sikhs.
"The way they tarnished Shaheen Bagh (the women-led protest against the new citizenship law), they are doing it here now," he said.
But Manzoor added: "Terming Muslims 'traitors' is easy but it can't be done with Sikhs."