National
PM Narendra Modi hands over Arjun Main Battle Tank (MK-1A) to the Indian Army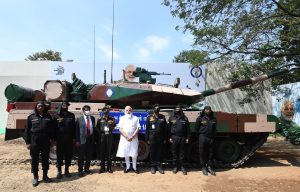 Read more at www.aviation-defence-universe.com
PM Narendra Modi hands over Arjun Main Battle Tank (MK-1A) to the Indian Army
Hits 50
Focus on making India Aatmanirbhar in the defence sector
New Delhi. 14 February 2021. The Prime Minister, Narendra Modi handed over the Arjun Main Battle Tank (MK-1A) to the Army, at Chennai today.
The Prime Minister said India has undertaken a massive effort to become self-reliant in the defence sector. He said this is inspired by what MahakaviSubramaniya Bharathi Writing in the oldest language in the world,Tamil, said Let us make weapons; let us make paper. Let us make factories; let us make schools.Let us make vehicles that can move and fly. Let us make ships that can shake the world. Modi said that One of the two defence corridors is in Tamil Nadu. The corridor has already received investment commitments over Rupees Eight thousand one hundred crores. 
The Prime Minister noted that Tamil Nadu is already the leading automobile manufacturing hub of India. Now, The Prime Minister saw Tamil Nadu evolving as the Tank manufacturing hub of India. On MBT Arjun Mark 1A, the Prime Minister declared "I am proud to handover the indigenously designed and manufactured "Main Battle Tank Arjun Mark 1A". It also uses indigenous ammunition.A tank made in Tamil Nadu will be used in our northern borders to keep the nation safe. This showcases India's united spirit – Bharat's Ekta Darshan"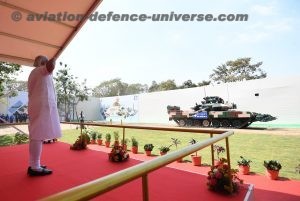 The Prime Minister said that the focus on making India Aatmanirbhar in the defence sector will keep moving with full speed. Our armed forces signify India's ethos of courage.They have shown time and again that they are fully capable of protecting our Motherland. Time and again they have also shown India believes in peace.However, India will protect our sovereignty at all costs, the Prime Minister said.
The Prime Minister paid homage to the Pulwama attack martyrs on the anniversary of the attack today. He said "We pay homage to all the martyrs we lost in that attack.We are proud of our security forces.Their bravery will continue to inspire generations."