National
PM Narendra Modi address on 'Parakaram Diwas': Top quotes | India News – Times of India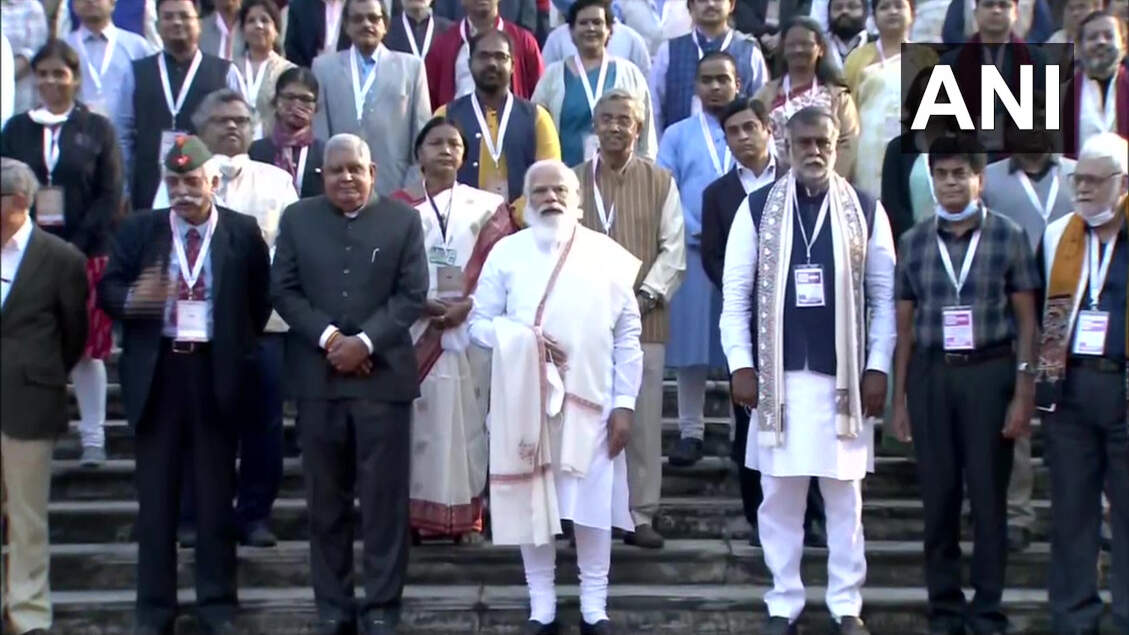 NEW DELHI:
Prime Minister Narendra Modi
arrived in Kolkata on Saturday afternoon to take part in the 125th birth anniversary celebrations of
Netaji Subhas Chandra Bose
. To honour and remember Netaji's selfless service to the nation, the government had declared Netaji's birthday on January 23 as '
Parakram Diwas
'.
In Kolkata, PM Modi participated in a programme at the Victoria Memorial, visited Netaji Bhavan, Bose's residence and also met with artists and delegates attending an international seminar on Bose at the National Library.
PM Modi's few-hour long visit to Kolkata on Netaji's birth anniversary holds significance ahead of assembly elections in West Bengal scheduled in April-May this year.
In West Bengal, BJP is in direct contest with the ruling Trinamool Congress (TMC), who has also tried to claim the legacy of Bose, India's foremost freedom fighter.
Here are the top quotes from PM Modi's address:
* Whenever I heard Netaji's name, irrespective of the situation, I felt inspired.
* Today, I bow to Netaji. I bow the man who stood up to the world's biggest imperial force and declared that he won't ask for freedom but will fight for it.
PM Modi interacts with artists and delegates at National Library in Kolkata. (Credit: ANI)
* The country has decided that now every year we will celebrate Netaji's birth anniversary, i.e. January 23, as 'Parakram Divas'.
* It is my good fortune that in 2018 we named the island of Andaman as Netaji Subhash Chandra Bose Island.
* Realizing the spirit of the country, the files related to Netaji were also made public by our government.
* It was the good fortune of our government that members of the Indian National Army (INA) participated in the veterans' parade on Republic Day.
BJP government has announced to celebrate Netaji's birth anniversary as Parakram Diwas. (Credit:ANI)
*Before leaving India, Netaji asked his nephew Shishir a question, "Can you do something for me". Netaji's decision to hurt the imperialists from outside of India was one of the primary reasons why the British empire's hold on India loosened.
* Every person in India is indebted to Netaji. Every drop of blood flowing in the body of more than 130 crores Indians is indebted to Netaji Subhash.
* Today citizens have to do something for India. We have to become aatmanirnbhar. We have to manufacture world-class products. There was nothing stopping India from becoming aatmanirbhar. PM Modi and Bengal CM Mamata Banerjee at Victoria Memorial. (Credit: ANI)
* Netaji would be happy to see India acing in world's most advanced technologies and to see Indian Army well-equipped with fighter jets like Rafale.
* Netaji would feel proud of India leading in coronavirus vaccine development.
* There is a lot to talk about Netaji. But one thing in particular that I always remember about him is his indomitable spirit. He said other countries might have bowed to imperialists but we won't.
* Netaji used to find inspiration from Bhagwat Gita.
(With inputs from agencies)