Economy
FTSE jumped on the progress of reopening of the economy amid steady flattening of the corona curve in U.K.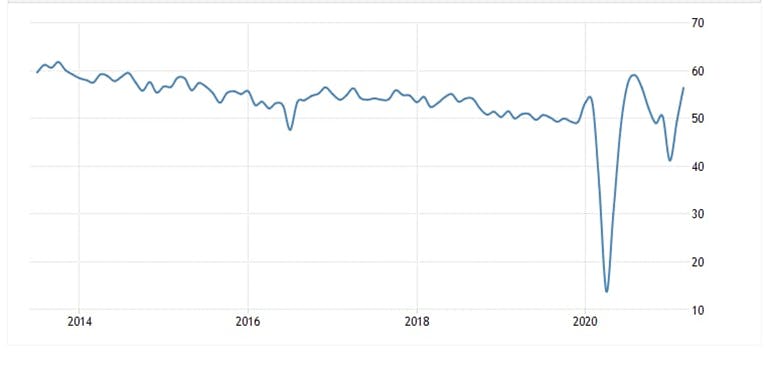 Britain's FTSE-100 jumped to a 14-month high and FTSE-250 soared to a lifetime high on the progress of reopening of the economy amid rapid COVID vaccinations and corona curve flattening. As a financial service-oriented export-heavy economy, although lower GBP is good overall, it will also cause higher imported inflation. Thus BOE may allow GBPUSD within a range of 1.45-1.35 in the coming days.
Britain's benchmark stock index FTSE-100, being export-heavy, jumped to 14-months high around 7037.65 Friday as GBPUSD retreats from February high 1.4237 to a 2-month low around 1.3670 and as strong economic recovery in China, a major trading partner of the U.K. (despite some recent geopolitical tensions). On Friday, China reported Q1-2021 GDP growth at +18.3% against +6.5% in the previous quarter (y/y), mainly on account of lower base effect and overall economic data was mixed amid acute chip shortages, negative for Chinese export.
Domestic savvy FTSE-250 soared almost +11% from Feb'21 till mid-Apr on increasing prospect of a strong economic recovery in Britain amid faster reopening of the economy and rapid distribution of COVID vaccines. Similarly, export savvy FTSE-100 also jumped almost +10% on better prospect of an economic rebound in China as well as America despite the tepid economic recovery in the EU.
For U.K. Markit Composite PMI was at 56.4 in March; manufacturing production expanded by the most since Feb'11, while service sector activity accelerated most (m/m) in the last 7-months amid progress of herd immunity (COVID vaccinations) and increasing reopening of the economy.
Markit comments:
"UK service providers were back in expansion mode in March as confidence in the roadmap for easing lockdown restrictions provided a strong uplift to new orders. Total business activity increased at the fastest rate since August 2020 and this return to growth ended a four-month sequence of decline. Forward bookings for consumer services and rising optimism about recovery prospects resulted in extra staff hiring across the service economy for the first time since the start of the pandemic. Business optimism improved for the fifth month running in March and was the highest since December 2006.
Around two-thirds of the survey panel forecast an increase in output during the year ahead, which reflected signs of pent-up demand and a boost to growth projections from the successful UK vaccine rollout. Of the small minority citing downbeat expectations in March, this was often linked to the uncertainty about international travel restrictions.
There were further signs that strong cost pressures have spilled over from manufacturers to the service economy, especially for imported items. Higher prices paid for raw materials, alongside rising transport costs and utility bills, meant that operating expenses across the service sector increased at the strongest rate since June 2018.
The dominant service sector moved up several gears into growth with a strong leap in overall output, topped off with a rise in job creation for the first time since the pandemic began at the beginning of 2020. Projects in suspension were re-started along with robust plans for future business as new orders rose at the strongest rate since August despite a marginal drop in exports which have remained stubbornly sluggish in recent months. The survey also offered more positive news in the form of the strongest business optimism since December 2006, though this has to be viewed in the context of many firms starting from a very low base given the devastation the service sector has suffered.
However, regardless of whether the sector's glass is now half empty or half full, the acceleration in input price inflation to its highest in nearly three years is a worry. As prices charged also rose at a sharper rate, it appears that consumers are set to mop up additional costs for fuel, shipping, and raw materials as services recoup some of their losses. Businesses will have to find the right balance between protecting margins and sustaining their operations in an increasingly competitive marketplace when consumer choice returns in abundance, otherwise, this big spring step forward will take a few steps back".
In brief, Markit said although the British economy is on the way to fire all cylinders, inflation may spike in the days ahead because of rising raw material costs and supply chain disruption. In Feb'21, U.K.'s core inflation was at +0.9%, slumped from the December reading of +1.4%. And compared to pre-COVID levels, Britain's average core inflation is around +1.4% on an average in 2021 (till Feb), much lower than the BOE target of +2.0%.
The Fed as well as BOE and ECB has to keep borrowing costs lower as much as possible but attractive (for angel investors) in a balancing act to fund huge COVID fiscal stimulus till at least 2025. U.K.'s debt interest/revenue ratio is around 4% against U.S.'s 10% in 2020. U.K.'s total revenue/GDP ratio is around 38%. Future direct tax increases centered mostly on a proposed 6% rise in corporate tax (from 19% to 25%) in 2023, and a freeze in income tax thresholds.

Thus U.K. has sufficient fiscal space for more fiscal/infra stimulus for an investment-led growth/economic model (like China) and so far provided/planned total COVID fiscal stimulus including infra investments (over 5-years) for around ₤729B, almost 33.55% of 2019 GDP (Pre-COVID). Britain's fiscal stimulus is designed to protect the labor force, vulnerable people as well as to create consumer demand and jobs so that private capex picks up of its own.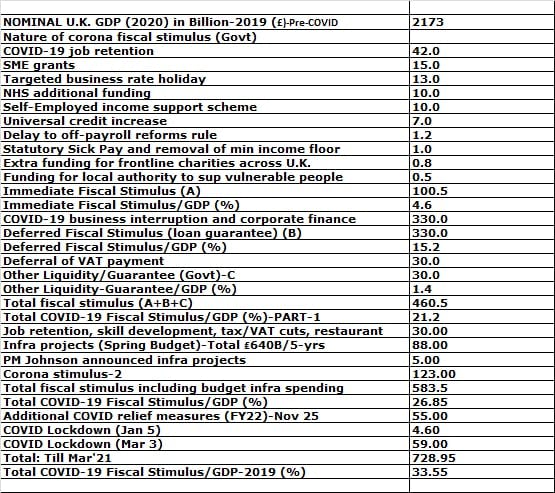 Bottom line:
U.K. economy was already under stress even before COVID amid years of Brexit and Trump trade war uncertainty. Thus COVID adversity was a great opportunity for Johnson to unleash huge fiscal stimulus along with targeted structural reform to stimulate the British economy after 'economic independence' from the EU's austerity stance. Looking ahead, U.K. may emerge as a major economic powerhouse in Europe, but it has to also make a deal with the EU for the financial service industry to keep London as the financial capital of the continent.
Technical View: FTSE-100
Similarly, FTSE-100 has to sustain above 7050 for the next leg of the rally; otherwise, expect some correction. FTSE-100 may scale 7880-8255 levels by Mar'22.