Covid19
Covid-19: India to be removed from UK 'Red' travel list on August 8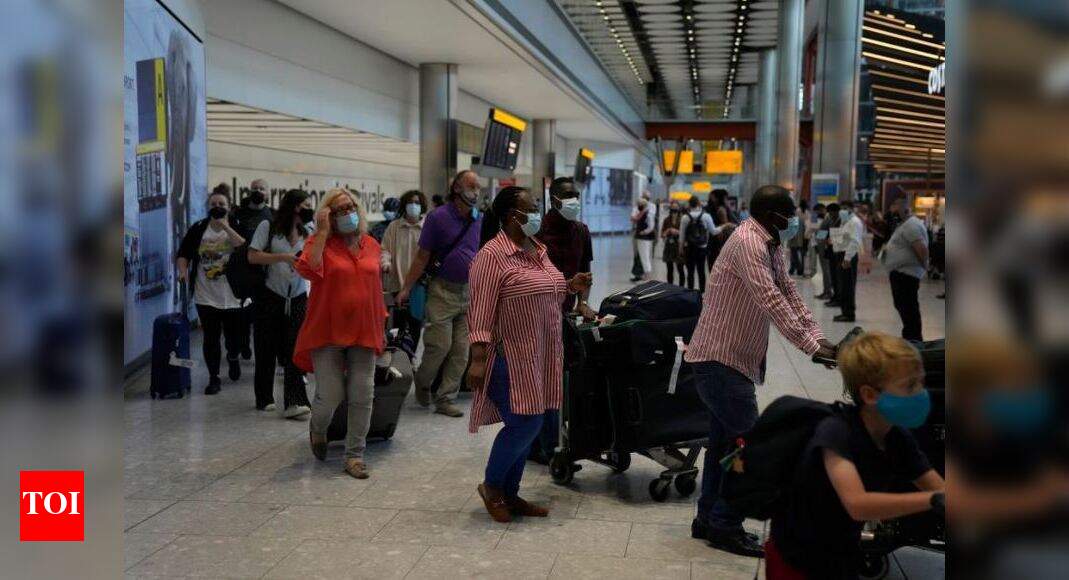 Read more at m.timesofindia.com
LONDON: India will be moved off the UK's Red List this Sunday, meaning tens of thousands of Indian students due to travel to the UK in the coming weeks, as well as others travelling from India to the UK will no longer be forced to stay in managed quarantine hotels for 10 days. Instead, they can quarantine at home or at the place they are staying.
On Wednesday night UK transport secretary Grant Shapps MP announced on Twitter: "UAE, Qatar, India and Bahrain will be moved from the Red List to the Amber List. All changes come into effect Sunday 8th August at 4am."
Pakistan and Bangladesh, however, which were added to the Red List on 9 April, will remain on the Red List.
A government spokesperson said India, Bahrain, Qatar and the UAE will be moved from the red to the amber list "as the situation in these countries has improved."
Shapps said: "We are committed to opening up international travel safely, taking advantage of the gains we've made through our successful vaccination programme, helping connect families, friends and businesses around the world."
UAE, Qatar, India and Bahrain will be moved from the Red List 🔴 to the Amber List 🟠All changes come into effect S… https://t.co/WUmSdGPpgr

— Rt Hon Grant Shapps MP (@grantshapps) 1628110256000
Travellers who have been in a country on the Red List in the last 10 days are not allowed to enter the UK unless they are a British or Irish national, or have residence rights in the UK.
India was added to the Red List on 23 April and since then anyone arriving from India has been required by law to quarantine in a managed hotel for 10 days – at a cost to themselves of £1,750 per adult (set to go up to £2,285 for bookings made on or after 12 August) as well as take two Covid tests. The cost increase is "to ensure taxpayers are not subsidising the costs of staying in these facilities, which have gone up," a government spokesperson said.
Travellers who have experienced the quarantine hotels have complained non-stop about the quality of food, the lack of fresh air, inability to open windows and being treated like prisoners with security guards and being unable to leave their rooms, apart from for 15 minutes walks.
On 24 July during his trip to London, Foreign Secretary Harsh Vardhan Shringla said that he has asked the UK to review its travel ban on visitors from India, stating that "Mumbai, Delhi, big cities are practically free of Covid".
Indian student bodies in the UK have also been lobbying for India to be taken off the Red List, stating that Indian students cannot afford the quarantine fees, on top of their international tuition fees and flights.
Once India turns Amber, Indian citizens without residency rights in the UK will once again be able to travel to Britain. Anyone arriving from India after 8 August must quarantine at home or in the place they are staying for 10 days and take two Covid-19 tests.
Indians arriving from India who have had Covishield, Covaxin or Sputnik V will not be eligible for exemption from home quarantine.
But anyone fully vaccinated in the UK, or vaccinated with a vaccine authorised by the European Medicines Agency (EMA) for Europe, Swissmedic for Switzerland, or the Food and Drug Administration (FDA) for the USA, who arrives from an Amber country will be exempt from home quarantine.
"If someone is vaccinated in India they should be treated the same as someone vaccinated in Europe. Or else that is discrimination," pointed out Sunil Amar, private banker, who went through 10 days of managed quarantine in June, following a trip to Delhi which he described as "mental torture".
Views to removing India from the Red List were mixed.
"It is amazing news and very sensible to take India off the red list because numbers are down and this means travel will be back so it will help airlines. I am sure 50% of Indians will follow the home quarantine rules to the letter and 50% won't," Amar said, adding the UK government ought to carry out spot checks.
Assam-born Puneet Dwivedi, 39, who also endured a hellish quarantine hotel experience after travelling back from India in June, said he thought the UK government could have waited a little longer before removing India from the Red List, "as there might be a third wave in India."
"We are absolutely thrilled India has come off the red list. The data shows cases have come down in India and this will really help Indian students who cannot afford these exorbitant hotel quarantine fees," said Indian National Students Association UK president Amit Tiwari.
Around 65,000 Indian students are expected to arrive in the UK in the next few weeks. "Now they will have a big cost saving and it is better for their mental wellbeing to quarantine on campus rather than in a hotel by themselves in a foreign country they have just arrived in by themselves," said Sanam Arora, chairperson of National Indian Students and Alumni Union (NISAU) UK. "We are so delighted that our voices were heard and our persistence paid off."
In addition to India moving to the amber list, from 4am on 8 August, Georgia, Mayotte, Mexico and Reunion will move to the red list as they present a high public health risk to the UK from known variants of concern, known variants under investigation or very high in-country prevalence, the government said.
Austria, Germany, Latvia, Norway, Romania, Slovakia and Slovenia will move to the green list as they have demonstrated they "pose a low risk to public health".
"The data for all countries will be kept under review and the government will not hesitate to take action where a country's epidemiological picture changes," the government spokesperson said. "All classification changes have been decided by ministers, informed by the latest data and analysis by the Joint Biosecurity Centre and wider public health considerations, to help the public understand the risks to public health of travelling to different destinations."