Covid19
Coronavirus News Live Updates: Actor Sonu Sood tests positive for COVID-19; Indian Railways to impose a fine of Rs 500 for not wearing a mask at railway premises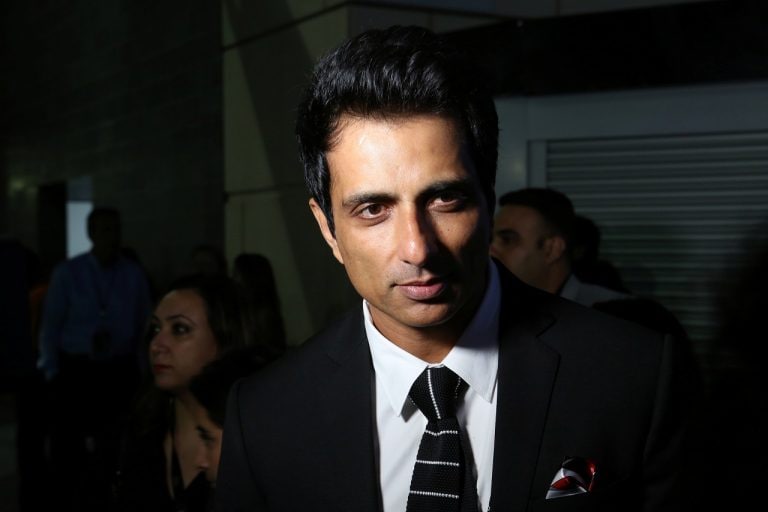 Coronavirus News Live Updates: India reported over 2.34 lakh total cases on Saturday, the highest number of cases to date. Total cases so far stand at 1.45 crore. Active cases surged by over 1 lakh in the last 24 hours.
The death toll rose by 1,341 in the last 24 hours and the mortality rate remained unchanged at 1.21 percent.
Nearly 12 crore people have been vaccinated so far, with 30 lakh doses administered in the last 24 hours.
The positivity rate has raised to nearly 12 percent, against 11 percent on the previous day. Our recovery rate, however, dipped to 87.22 percent from 87.80 percent.
Total cases: 1.45 crore
Total active cases: 16.80 lakhs
Total recoveries: 1.27 crore
Total deaths: 1.76 lakhs
Total tests (24 hours): 14.95 lakhs
Total vaccination: 11.99 crore
For live updates on coronavirus and vaccination drive from across the world, stay tuned.
---
COVID vaccines don't stop one from getting infected, but help in reducing severity: Health economist
COVID-19 vaccines do not stop one from getting infected but instead help in curing the disease faster and reducing its severity, said health and development economist Professor Anup Malani. He also said that reinfection can be one of the reasons behind the recent surge in cases in the country.
Chhattisgarh | Covid victim's body ferried on tractor

Nagar Panchayat CMO has been informed regarding the victim's body. Arrangements are being done for cremation. It may have happened in hurry that body was sent in another vehicle: Mithlesh Chaudhary, CMO, Rajnandgaon (16.04) pic.twitter.com/YvyELW4nN6

— ANI (@ANI) April 17, 2021
Due to non-availability of medical oxygen at Shri Harilal Bhagwati Municipal Hospital-Borivali West, patients from here are being shifted to other hospitals/COVID centres. Unfortunate that oxygen is not available at a BMC run hospital: Dahisar MLA Manisha Chaudhary, in Mumbai pic.twitter.com/mLCpdqAwlO


— ANI (@ANI) April 17, 2021
Family members of COVID patient complain about 'shortage' of hospital beds in Lucknow
A shortage of hospital beds in Lucknow seems to have kept a 65yearold COVID19 patient waiting for proper treatment. The family members of the woman claimed that she could not be admitted to a hospital as no beds were available in the capital city of Uttar Pradesh.
Gujarat | Govt-run Samras Girls' Hostel, being converted into temporary Covid centre, in Vadodara.

To help govt in fighting Covid cases, we're converting 153 hostel beds into oxygen beds. We'll increase the number of beds as per requirement: Yash Shah, CL Shah charitable trust. pic.twitter.com/fXRoOD8dN1

— ANI (@ANI) April 17, 2021
Police is strictly enforcing weekend curfew. People who are out of their house unnecessarily are being prosecuted & cases being registered against them. I appeal to people to respect weekend curfew & stay at home and not face any trouble: Delhi Police Commissioner SN Shrivastava pic.twitter.com/CQfGrS1EpM


— ANI (@ANI) April 17, 2021
Sonu Sood tests positive for COVID-19, days after receiving vaccine
Actor Sonu Sood on Saturday said he has tested positive for COVID19 and is currently under quarantine, nearly ten days after receiving the vaccine. The actor was recently made the brand ambassador for Punjab's anticoronavirus vaccination programme. Sood had also met Punjab Chief Minister Amarinder Singh, on April 10. The 47yearold actor, who catapulted to the national spotlight for helping migrants reach their home states during the nationwide lockdown last year, said he will continue his work for those in need. "This is to inform you that I have tested positive this morning for COVID-19.
I held detailed discussion with CMs of States ruled by Congress &where Congress is in alliance govt, to take stock of situation there. What transpired was, gross unpreparedness & avoidable adhocism on part of Modi govt in foreseeing&managing COVID crisis: Sonia Gandhi during CWC pic.twitter.com/yWDwXYNpsc


— ANI (@ANI) April 17, 2021
I've written to PM after meeting with them. Our CMs have spoken to PM & written to the concerned minister from time to time pleading for relief. Some of them were left with only a few days of vaccine, no oxygen or ventilators: Congress Interim President Sonia Gandhi during CWC


— ANI (@ANI) April 17, 2021
Delhi CM Arvind Kejriwal to hold a review meeting on the COVID19 situation today. Nodal Minister for COVID19 management Manish Sisodia, Health Minister Satyendar Jain and other officials to take part in the meeting

(file pic) pic.twitter.com/RMRC4NzyUq

— ANI (@ANI) April 17, 2021
#WATCH | "Those returning from Kumbh Mela to their respective states will distribute Corona as 'prasad'," says Mumbai Mayor Kishori Pednekar pic.twitter.com/P9UBVBv1mN


— ANI (@ANI) April 17, 2021
Indian Railways to impose a fine of Rs 500 for not wearing a mask at Railway premises


— ANI (@ANI) April 17, 2021
Puducherry clocks 715 new cases of COVID-19, tally rises to 47,108
Puducherry registered 715 fresh coronavirus cases during the last twenty four hours ending 10 am on Saturday, raising the overall infection count to 47,108. Three more persons two in Puducherry and one in Karaikal succumbed to death taking the toll to 705.
Vineet Kumar Singh receives aid from Pankaj Tripathi; says private labs not doing COVID tests
Actor Vineet Kumar Singh on Saturday thanked his "Gangs of Wasseypur" costar Pankaj Tripathi for sending him medicines, after he tweeted that he and his family members were unwell. The "Mukkabaaz" star, who is currently in Varanasi, lashed out at the administrative failure amid the current COVID surge in the country. Singh, 42, took a dig at the political rallies being held despite the alarming rise in COVID cases and said those visuals were shameful at a time when the common man was struggling to live.
Katrina Kaif tests negative for COVID-19
Actor Katrina Kaif on Saturday said she has recovered from COVID19, more than ten days after contracting the virus. The 37yearold actor took to Instagram and shared a picture of herself, thanking fans for their wishes. "Negative. Everyone who checked up on me, thank you. It was really sweet, felt a lot of love," she wrote. The "Zero" actor had opened up about her COVID diagnosis on April 6 and was under home quarantine.
Ten states/UTs account for 79.32% of new COVID-19 cases: Health ministry
Ten states and union territories, including Maharashtra, Uttar Pradesh and Delhi, account for 79.32 percent of the new coronavirus cases in the country, the Health ministry said on Saturday. It said Maharashtra has reported the highest daily new cases at 63,729. It is followed by Uttar Pradesh with 27,360, and Delhi with 19,486 fresh cases.
NCP minister questions centre's indecision over permissions for supply of Remdesivir
There are 16 export oriented units in our country that have 20 Lakh vials of #Remdesivir, since exports are now banned by the government, these units are seeking permission to sell this medicine in our country but central government is denying the same. (1/3)


— Nawab Malik نواب ملک नवाब मलिक (@nawabmalikncp) April 17, 2021
Mumbai Marathon rescheduled due to COVID-19, new date to be announced
The organisers of Mumbai Marathon on Saturday announced that the 17th edition of the event, which was to take place on May 30, has been rescheduled owing to the COVID-19 pandemic. "The new date will be announced in due course after consultations with the Government of Maharashtra and relevant athletic bodies," a media release stated.
Odisha CM urges PM to allow sale of COVID-19 vaccines in open market
Odisha Chief Minister Naveen Patnaik has urged Prime Minister Narendra Modi to make COVID- 19 vaccines available in the open market for citizens willing to buy them. The move will help state governments streamline their focus on the vulnerable sections of the society, he wrote to the prime minister on Friday. Patnaik also stressed that COVID-19 vaccines which have received green signals globally from credible agencies should be accorded approval in India. Noting that India has a huge vaccine manufacturing potential, the chief minister said the Centre and states should support production units.
India administers over 12 crore vaccine doses
#LargestVaccineDrive #AmritMahotsav pic.twitter.com/uTxMHol4Hh


— Ministry of Health (@MoHFW_INDIA) April 17, 2021
Ladakh registers highest single-day spike with 245 new COVID-19 cases
Ladakh recorded 245 new COVID-19 cases, the highest single-day spike this year, pushing the virus case count in the Union Territory to 11,709, an official bulletin said on Saturday. The detection of the new cases 236 in Leh and nine in Kargil during the past 24 hours, raised the number of active cases to 1,363, the bulletin released by the Directorate of Health Services, Ladakh said.
10 reasons airborne route is dominant in COVID-19 transmission: Study
A new study published in The Lancet, a reputed medical journal, has now dismissed the widely held belief that SARS-CoV-2 spreads predominantly through large respiratory droplets that fall quickly. The study delves into addressing, through evidence, that SARS-CoV-2 is transmitted primarily by the airborne route.
Just in | BMC likely to quarantine pilgrims arriving from Kumbh. Official announcement to come shortly
Some data highlights
>> India's cumulative vaccination coverage nears 12 crores with over 30 lakh doses given in the last 24 hours
>> 79 percent of new cases are being reported from 10 States
>> UP overtakes Rajasthan to become the state with second-highest vaccination numbers, Maharashtra leads
>> Total 3,56,668 doses administered in Maharashtra
Covid Vaccinations (as on April 16)
Total Vaccine: 11,99,37,641 (30,04,544 in last 24 hrs)
✅ 1st dose: 10,44,08,484 (22,96,008 in last 24 hrs)
✅ 2nd dose: 1,55,29,157 (7,08,536 in last 24 hrs)
TOP 3 STATES:
⏺ Maha 1,18,86,859
⏺ UP 1,05,38,702
⏺ Raj 1,05,23,372
Manish Malhotra, Sumeet Vyas test positive for COVID-19
Fashion designer Manish Malhotra and actor Sumeet Vyas have tested positive for COVID-19 and are currently under home quarantine. Malhotra took to Instagram on late Friday evening and wrote he was following all safety protocols listed by his doctors. Vyas, 37, also shared his diagnosis on Instagram and informed his fans that he had "mild" COVID symptoms. "I am taking all the necessary precautions, taking medication prescribed by my doctors and putting myself under home quarantine.
Maharashtra relaxes rule of compulsory RT-PCR every fortnight for maids, drivers, delivery personnel
Maharashtra government has decided to relax the rule of compulsory RT-PCR every fortnight for maids, drivers, delivery personnel even as cases surge in the state. This was putting additional load on the testing mechanism, and leading to delays in results of actual cases, govt said. However, temperature and oxygen monitoring of this personnel have to be done on a daily basis. If there are problems with these results, then they should be taken for testing, the govt added. But, it is mandatory for everyone above the age of 45 to get vaccinated.
CISCE defers class 10, 12 exams in view of surge in COVID cases
The Council for the Indian School Certificate Examinations (CISCE) on Friday deferred the board exams for classes 10 and 12 in view of a rise in COVID-19 cases across the country. India added a record 2,17,353 new coronavirus infections in a day taking the total tally of COVID-19 cases to 1,42,91,917, while active cases surpassed the 15-lakh mark, according to Union Health Ministry data updated on Friday.
UK finds 77 cases of COVID-19 variant first found in India
UK health authorities have identified 77 cases of the highly infectious B.1.617 variant of coronavirus which causes COVID-19, first found in India, and has designated it a Variant Under Investigation (VUI). Public Health England (PHE), which releases weekly updates on the number of confirmed new cases of Variants of Concern (VOC) and VUI in the UK, reported on Thursday that the variant first detected in India includes a number of mutations.
Guatemala blocks travel from Brazil, UK and South Africa in new COVID measure
Guatemala will restrict entry to visitors who have recently been to Brazil, the United Kingdom and South Africa in an effort to control a jump in coronavirus cases, President Alejandro Giammattei said on Friday. The measure will go into effect on Saturday and last through April 30, applying to tourists who have been to those countries within the prior two weeks, Giammattei said in a public address.
5,039 new COVID-19 cases in Thane district, 39 die
With the addition of 5,039 coronavirus cases, the infection count in Thane district of Maharashtra mounted to 4,06,093, an official said on Saturday. These new cases were reported on Friday, he said. As 39 patients succumbed to the infection during the day, the death toll in the district rose to 6,864. Thane district's COVID-19 mortality rate is 1.69 percent now, he added. So far, 3,42,069 patients have recuperated, which took the recovery rate to 84.23 percent. There are 57,160 active cases of coronavirus in the district at present, the official said.
Life comes to halt as weekend curfew underway in Delhi
Life in the national capital has come to a halt as the city grappling with soaring COVID-19 cases observed weekend curfew, with Chief Minister Arvind Kejriwal on Saturday appealing to people to adhere to the restrictions. The weekend curfew aimed at breaking chain of spiralling coronavirus infections was clamped at 10 pm on Friday and will continue till 5 am on Monday.
CM Kejriwal to review COVID situation in Delhi
Delhi Chief Minister Arvind Kejriwal on Saturday will hold a meeting to review the COVID-19 situation as the national capital has been witnessing an exponential rise in coronavirus cases. Deputy Chief Minister Manish Sisodia, who is also nodal minister for COVID-19 management, and Health Minister Satyendar Jain will also attend the meeting.
Rapid rise of Covid 2.0 means it will be less protracted: Report
The rapid spread of the second wave of Covid-19 in India means that it will be less protracted too with 40 percent of India's population estimated to develop antibodies by the end of April. A research by Credit Suisse estimates that the faster the second wave rises, the faster it should fall. The analysis notes that the area under the curve matters, as the infection fatality rate is still 0.05 percent against an all-cause mortality rate of 0.7 percent.
Covid 2.0 may claim 2,320 lives per day in India by June: Report
The lethal second wave of Coronavirus will likely claim nearly 1,750-2,320 lives per day in India by the first week of June 2021, if proper steps are not immediately taken to curb its spread, warned a report by the Lancet Covid-19 Commission. Maharashtra, Chhattisgarh, Karnataka, Delhi, Tamil Nadu, Uttar Pradesh, Madhya Pradesh and Gujarat will likely remain the most affected, according to the report titled "Managing India's second Covid-19 wave: Urgent steps".
Snan at Kumbh Mela should be symbolic, PM Modi appeals
PM Modi spoke to  Juna Akhara Mahamandleshwar, Swami Avdheshanand and requested for the 'Shahi Snan' at the Kumbh Mela to be kept symbolic. Swami Avdheshanand responded to his call and appealed to Hindus to keep the bath symbolic and not gather in large numbers at the Mela for it. He further said that the protection of life amidst the rising COVID-19 pandemic is of paramount concern.
We respect Prime Minister's appeal. I request the people to not come for snan in large numbers, in the wake of #COVID19 situation, and follow all rules: Swami Avdheshanand Giri, Acharya Mahamandleshwar, Juna Akhara pic.twitter.com/w38QFOWZdF


— ANI (@ANI) April 17, 2021
With inputs from agencies