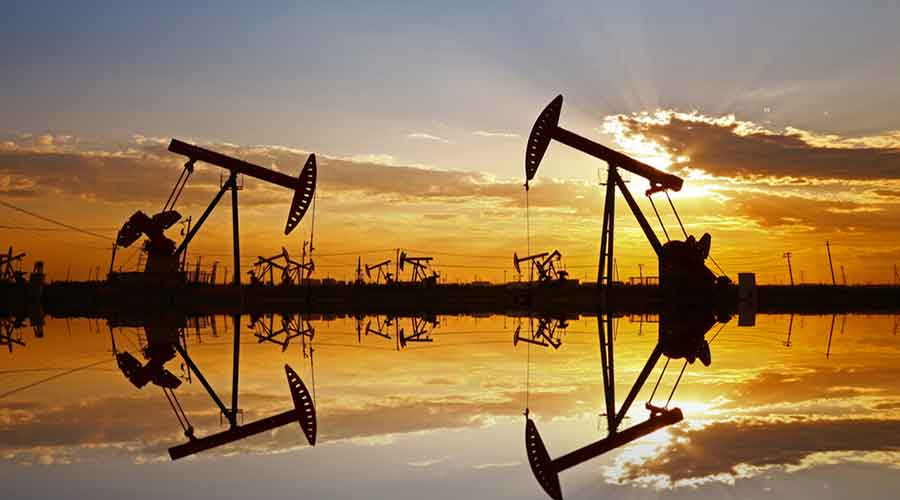 Read more at www.telegraphindia.com
The quality of oil that ONGC has discovered in the Bengal basin is superior to Brent and on a par with West Texas Intermediate (WTI) — the world's best-known benchmark crude oils.
The small quantity of oil, being lifted from Ashoknagar -1 block in South 24-Praganas, has an API gravity of 40-41, which is considered to be a light variety and sought after because of the lower load it exerts on refineries.
Brent crude, a benchmark for oil produced in the North Sea, has a density of around 835 kg/m3, being equivalent to a specific gravity of 0.835 or an API gravity of 38.06. 
WTI (West Texas Intermediate) crude, denoted to oil lifted in the North America, has an API gravity of 39.6 degrees. 
API stands for the American Petroleum Institute which developed a specific gravity scale to measure the relative density of various petroleum liquids which is expressed in degrees on a hydrometer instrument. Values are graded from as low as 10 degrees  to 70 degrees. A higher API gravity indicates a lighter and lower density crude. Light crude falls under the 35-45 API gravity range. 
Brent costs around $51.80 per barrel (bbl) while WTI trades at $48.52 per bbl. 
While the extent of commercially recoverable reserve is still being assessed, the quality of crude will give comfort to Oil and Natural Gas Corporation, which has already declared Ashoknagar a producing block and Bengal basin a producing basin.
Crude oil is usually judged on two parameters, sulphur content and weight. High sulphur (sour) and heavy oils are of lowest quality and are least expensive in the global market while low sulphur (sweet) and lighter oils fetch the highest price. While the amount of elemental sulphur from Ashoknagar samples are still being examined, indications are that it may be of sweet variety.
In India, the Ashoknagar crude quality is equivalent to what is produced at Bombay High, Panna Mukta (offshore) and Cauvery (onshore), where API grade is about 41. 
India procures a bulk of its crude requirement from West Asia, which is heavier grade (Iran and Saudi Arabia) and the Indian refineries are geared to process this kind of crude.
However, India's crude oil import basket also includes Nigeria, Venezuela and the United States where the lighter variety is found. 
The country produces only 15 per cent of the domestic requirement, making India the third largest importer of crude oil globally. The Narendra Modi-government has set a target to bring down import dependence to two-thirds by 2022 and to half by 2030. 
One of the tools it plans to deploy to encourage domestic and international oil explorers is the early monetisation scheme. Under this plan, an explorer can also sell/monetise oil and natural gas recovered during the exploration/development phase, before reaching the commercial production stage.
Ashoknagar-1 is part of that early monetisation plan. While the first well drilled is producing small quantities of oil, the Ashoknagar block is believed to have a larger reservoir of natural gas. 
ONGC has geared up to drill the next well by the end of this month. 
"This will be a horizontal well to explore a deeper layer of around 3,700 metres. The centre of the new well will be 300 metres surface distance away from the presently producing well," a source in the company said.
This will be part of three more wells the PSU plans to drill by January 2022 to ascertain recoverable reserves from the field and if it could be brought to a sustained commercial production thereafter.